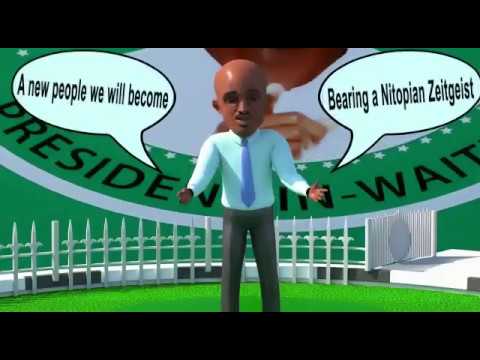 Nigerian author and singer "Iranse Eledumare" has just released an animation titled "President-in-Waiting"
One which evokes his convictions concerning ruling Nigeria and transforming Nigeria into "a new Nation" he has fondly named as Nitopia.
'Nitopia is a portmanteau resulting from fusion of the words "Nigeria and Utopia".
And the inhabitants of Nitopia will be called Nitopians,' he adds with a spark in his eye as he spoke.
There is certainly an enigma about him and his intentions to be president of Nigeria and coincidentally he is the author of the book MESSIAH ENIGMA.
When asked, "so are you the messiah Nigeria is looking for?" he responds;
"The whole world need to understand what the word "MESSIAH" means, connotes and implies."
'For generations every prophecy about "the expected Messiah" has been encrypted with several layers of information, some layers for the dilettante and some layers for the cognoscenti.
So it is; with my animation, and so shall it be concerning; Nigeria's next president.' To purchase the book "MESSIAH ENIGMA" Click HERE
Watch and Enjoy the video below
The post [Video] Iranse Eledumare – "President-in-Waiting" appeared first on tooXclusive.