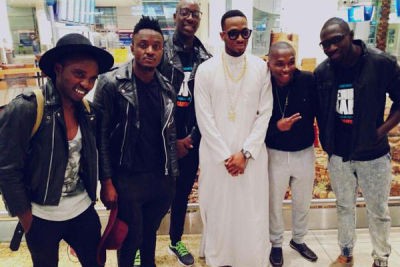 We Nigerians like to tout ourselves as the pride of African music, this might not be unconnected to the fact that our Afrobeat has redefined the African sound. Nigerian music and our artistes unarguably dominate the rest of the continent, with superstars like Wizkid, PSquare, Dbanj, Flavour, Davido, Tiwa Savage, Yemi Alade successfully hawking their music across Africa, not to mention how Nigerian artistes are treated like a re-incarnation of the legendary Michael Jackson whenever they make trips to other countries.
Meanwhile other African artistes, the likes of Fuse odg, Sarkodie, AKA, Casper Nyovest, Diamond Platnumz are every bit as good as their Nigerian counterparts and I dare say sometimes even better, surprisingly they do not get half the credit, talk more of the recognition.
Recently there has been a little bit of a paradigm shift, with acts like Fuse Odg, Diamond Platnumz scoring awards head of Nigerian acts, and there was the case of Stonebwoy who won the BET awards over the other nominated Nigerian artistes, only to have Nigerian nominees to cry foul.
Which brings me to the case of the most popular show of the moment, "Tecno Own The Stage". Every week the show sees contestant render a karaoke performance of some of the most popular songs in Africa, and the world. You cannot help but notice a trend with the contestants, while Nigerian contestants constantly perform Nigerian songs all the while avoiding songs from other African acts like a plague, contestants from other African countries perform songs from their own countries and also go ahead to perform songs by Nigerian artistes.
Take the case of the best performer of episode 5, Ramar254, who performed M. I's wildly acclaimed single, "Africa Rapper Number One", not only did the contestant overcome the language barrier he was also able to nail it!
The other episodes also saw Tanzania's "Zoccou"perform Banky W's "Yes or No" to a totally awed audience, Kenyan's "Sikin" also tried to perform Wizkid's Ojuelegba unfortunately she wasn't able to overcome the Language barrier.
Perhaps the other African contestants are just better and more daring than their Nigerian counterparts or is Nigerian music just like the high school bully who continues to dominate the African music market via their mainstream music?
Tell us what you think?
To answer the questions and win, you must visit www.tecnownthestage.com
For more info and updates, you can follow us on;
Facebook – Tecno Own The Stage
Twitter – @tecnoowndstage
Instagram – @tecnoownthestage
Tecno's #OwnTheStage shows on:
Sundays – Africa Magic Showcase at 19:00 CAT
Sundays – Africa Magic Urban at 21:00 CAT
You can watch the repeat broadcast on:
Tuesdays – Maisha Magic East and Maisha Magic Bongo at 18:30 CAT
Wednesdays – Africa Magic Family at 19:00 CAT
The post Are Nigerian Artistes Better Than Other African Acts? appeared first on tooXclusive.