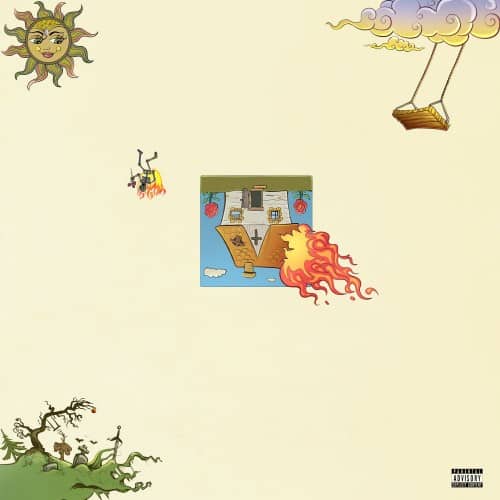 REVIEW; Rema's On a Path to Global Domination With His Debut Album, Rave & Roses.
He brings unprecedented originality to Afrofuturism with his unique sonic abilities and outstanding adlibs. His commitment to accentuating the sonic boundaries of Afrobeats & Highlife from this part of the world with one more global appeal element is undeniably genius.
In late 2019, when Rema burst into the scene with his monster hit song Dumebi, and went viral with his streak of car trap freestyles, it became clear that Afrobeats was headed in a new direction; with the genre absorbing so much more elements that it was getting as universal as it could ever be.
His sound was familiar, yet different and his unique use of adlibs made him sound quite similar to Wizkid who was already a huge success at the time. But the one who deserves the true credits for moulding the Rema brand into a force to reckon with, blending his trap abilities with the genius of slanging, highlife, call and response is D'Prince and his elder brother/label investor Don Jazzy.
For a lot of people, D'Prince was way ahead of his time during the Mo-hits era, his music was powered by calculated productions and street slanging, and a lot of that had been inculcated into the Rema brand.
Rema's goal has been clear from the jump, and his sonic coherence on his debut project shouldn't come off as surprising, especially since it's taken so long to work on this full length project.
TRACK BY TRACK REVIEW OF RAVE & ROSES ALBUM.
DIVINE
Divine is the first track and intro on the Rave & Roses album. On this track, Rema chooses to spotlight the circumstances surrounding his birth, and first name; Divine.
Divine is a very powerful track that explores the journey of one of Africa's youngest music exports right from when he was still in the womb up till right now. It is quite clear that the young man chose music from heaven, and his ability to expand his sonic palette makes you wonder if he wrote the Divine track while he was still in the womb.
He faces any direct or indirect attacks at his destiny both within and outside the industry. Warning his enemies of the dire consequences of crossing him. He also faces the pain of losing his father and elder sibling, declaring all these as the culmination of his destiny; a truly Divine one.
HOLD ME
Hold Me is the second track on the Rave & Roses project, a powerful feature with 6lack that draws its inspiration from a fusion of Afrobeats and Trap-based symphonies to accommodate 6lack. It's a feature that's sampled throughout the entire album.
Just like many other Rema tracks, this song equally spotlights his affectionate moments with a special lady. When 6lack jumps in with his verse, we can feel the beat changing into its trap components and quite reminds you of a similar stunt pulled by Drake & Travis Scott on their monster hit collaboration.
Rema is very elite with his lyricism, punctuating it with the right adlibs and ensuring that his melodies do not hit you as Afropop should.
"Oh baby hold me o baby hold me
Na you dey cool me down baby hold me…"
His confident delivery stems from his confidence in the results of his hard work in crafting and perfecting his Afro rave subgenre while working on this project.
DIRTY
By the time the third track DIRTY comes on, you're already wondering if Mr Divine made a commitment to drop only the most sensual records, but the uniqueness of his sound takes you on a journey that transcends beyond ordinary human capacities.
Dirty is a dope record, and it wouldn't be surprising to see it do mad numbers on streaming platforms when the official video drops.
CALM DOWN
Although we've all listened to Rema's first single off the album over and over, the projects introduces it in a new light.
On first listen, Calm Down sounds like a rip off of Wizkid's MIL sound, but on subsequent plays, you'll find out that although the sounds may seem quite similar, their flows are indeed different and both artists move in totally different directions with Rema leaning more towards an upgraded version of Mo-Hits era D'Prince.
It's a bold track that makes use of a monotone sound, allowing Rema to flex his song writing skills as well as his melody crafting expertise.
TIME n ATTENTION feat Chris Brown
The two times Chris Brown tried to make an inroad into Afrobeats with Davido & Wizkid, it wasn't based on some identified chemistry, it was simply a play for wider listenership and viewership. He sounds dope, but not much of anything else, than projects meant to help build brand equity both ways.
However, on TIME n ATTENTION, the chemistry is quite obvious. Rema's ability to blend his renditions with more than just the heavy percussion & call and response which are the main cruxes of Afrobeats. He takes it one notch farther, showing how much of Western influence his personally crafted sub-genre can take.
With Rema & Chris? Everything is just perfectly blended and their vocals compliment each other quite well.
JO
Jo is a decent track, but most definitely a freestyle that should have been left off the album. On this track it's not clear what Rema's really trying to communicate with her, but it all ends up in a chant to dance and a declaration of undying love.
The melody is great, and it's suited for the local market, but it just doesn't fit into the theme of the project and therefore sticks out like a sore thumb.
Like every other record on the project, JO fits in but you can see that it's simply decent compared to the other outstanding tracks on the album. The name calling makes it sound familiar, but only because Rema uses this frequently on his songs not cause of anything special about the song in particular.
MARA
One of the things Rema gets huge credits for on his debut project Raves & Roses is the smooth production and very clean mixing and mastering on the songs, with Andre Vibes doing exceptional work on Mara. Although a huge proportion of the project is spent on varying levels of romantic conversations and communication between lovers or prospective lovers.
On Mara, Rema leans deeply into his Afro-rave sub genre to produce the perfect blend of Afro life. He keeps the lyrics as simple as possible, but the message is clear and resounding. "Baby, I no go leave you!"
LOVE
On Love, Divine Ikubor returns to his love and affection for women and decides to express profound love to a mystery lady who's deserving of all the love he's got to give.
"This one Na love nwantiti …", works well as a dope hook on this track as obvious as it might seem like it could have been inspired by Ckay's 2021 surprise global smash hit, it's still an incredible record and Rema can do no wrong while professing his love over and over again.
ADDICTED
Addicted is undoubtedly the best record on the album. A properly laid down trap beat with outstanding vocals that'll give Post Malone & Travis Scott a run for their money.
This track chronicles his addiction to the lifestyle of a rockstar, especially with the fact that he's in love with a junkie. Although his friends try to caution him, he throws it all to the wind and he just leaves his life on his own terms.
He moves on to equally send words of caution to his girl, contemplating how to get out of the entire situation.
ARE YOU THERE
When Rema interjects his tracks with his tag-phrase "another banger", be prepared for a mind-blowing song that will take you straight to the moon.
Are you there is the first and only socially conscious song on the project, on this track, Divine touches on different ills affecting the society and still manages to keep the melody perfectly intact.
He gives a dancehall-based performance that blows you out of the water, but still rooted in the basic sonic tenets guiding each song on the project.
FYN feat. AJ Tracey
Fresh Young Nigga (FYN) is a collaboration with British rapper AJ Tracey where Rema takes a deep dive into his current societal status and the wealth and lifestyle that comes with being fly like he his at the moment.
AJ Tracey does justice to the track with his medium-paced verse while Rema does justice to the song with his futuristic sound. FYN was the last single dropped in anticipation of the album and it's currently doing massive numbers across all streaming platforms.
OROMA Baby
Oroma Baby is another typical Rema track, pairing his unique vocals with hybrid highlife sounds is a beauty to watch.
The call and response in OROMA Baby is executed perfectly, and it's guaranteed to be a huge banger in Nigerian clubs now that nightlife is back and the pace of Nigerian music post-covid is starting to pick up faster than ever.
On this record, Rema continues on his streak of romantic, sensual renditions. Serenading this lady with his usual lively lyrics and perfect blend of imagery and adlibs. It is clear that Rema is on a sonic journey that will become very clearer in future. He's managed to turn a nasty conversation that built up around him sounding like a Bollywood singer into a sonic expression that's left a whole continent in awe.
CARRY
When this track comes on, it certainly feels like a continuation of the previous track. Rema extends his sonic expression with Carry. Showing off his ability to bring a whole new perspective to the melodies that can be crafted from the ebbs of his genius.
The sound is clean but also quite detailed, and his adlibs are also very pronounced. While the lyrics are very sparse on this record, the purpose is clear and it steers us towards the end of the project with magical precision.
WINE feat. Yseult
At this point in the album, Rema's legacy as the future of Afrobeats is secure and his debut is a certifiable success story in the making. He makes an extended play for the French territories with an outstanding performance from Yseult who takes the song in and delivers an eclectic performance.
RUNAWAY
A deserving outro to a perfectly written, arranged, composed and performed body of art. On Runaway, Rema ushers is towards the end of this galactic journey with a sad love story.
On this one, he's not grabbing at any female parts or any manipulative gestures, rather he's hell bent on getting her love the right way or eventually eloping if that seems like the only option left.
This is a new, gentlemanly Rema, flashing a possible Diamond ring and promising eternal bliss to a young lady with whom he's prepared to be on the run with forever.
The London-produced track is a deserving crown that sits atop other successes of the project in its entirety.
Rema's coordination on this project is very clear, and the amount of work and resources put into pulling off a project such as this can only be drawn from a certain confidence in the ability to make sufficient plays for more music real estate in other parts of the world. It is no wonder that at the time of writing this, Raves & Roses was number 1 on Apple Music in 14 countries while charting in over 60 countries.
Rating: 8/10
Comments; Kudos to Rema, Mavin, Jonzing World and the rest of the team for an outstanding Ravers experience. It was a galactic ride to the moon, and I can't wait to see Rema dominate the new Billboard Afrobeats Charts.
Written by AfrobeatsMerije.
Bisi-Taiwo Chukwumerije is a blood-bound Nigerian writer & Music Executive.
Tweet your favourite, random, mind-boggling songs, EPs, LPs, Albums, & music projects to him; @AfrobeatsMerije. 
The post [Album Review] Rema – Rave and Roses (8/10) first appeared on tooXclusive.