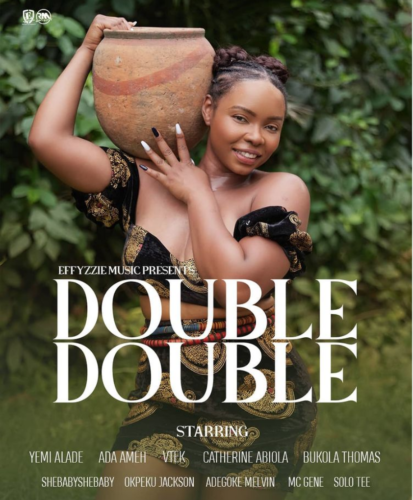 Nigerian singer and Africa's Energetic performer, Yemi Alade returns with the visual of another banging/ sing along tune titled "Double Double".
Effyzzie Music Group presents the official music video for "Double Double" by Yemi Alade featuring Vtek.
This brand new video is a follow up to Yemi Alade's last music video 'Sweety'. SWEETY is a switch from Pop to Highlife and of course, that's what she is known for. She kept it laid back and you can just chill and vibe with her as the horns and percussion swirl you to a head nod as the record plays. Yemi Alade's sounds are typical to dance and body movement and so no matter how laid back she was (which is one sign of her growth and maturity) on this song, the production, and her style still got the dance groove up. STREAM HERE.
The song 'Double Double' is a prayerful tune that comes with melody and a good dance vibe for your enjoyment. According to Yemi Alade via Twitter; 'I need to start a #prayerchain, Where we speak into existence the blessing we want God to double in our lives before the year ends!'
It's off her EMPRESS album, Listen below and speak that which you want into existence and continue to Rejioce!
Directed By Clarence Peters, Starring;
@adaameh
Catherine Abiola
Bukola Thomas
Shebabyshebaby
Okpeku Jackson
Adegoke Melvin
MC Gene
Solo tee…
Watch and Enjoy the lovely visual.
---