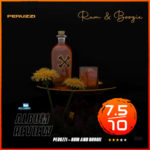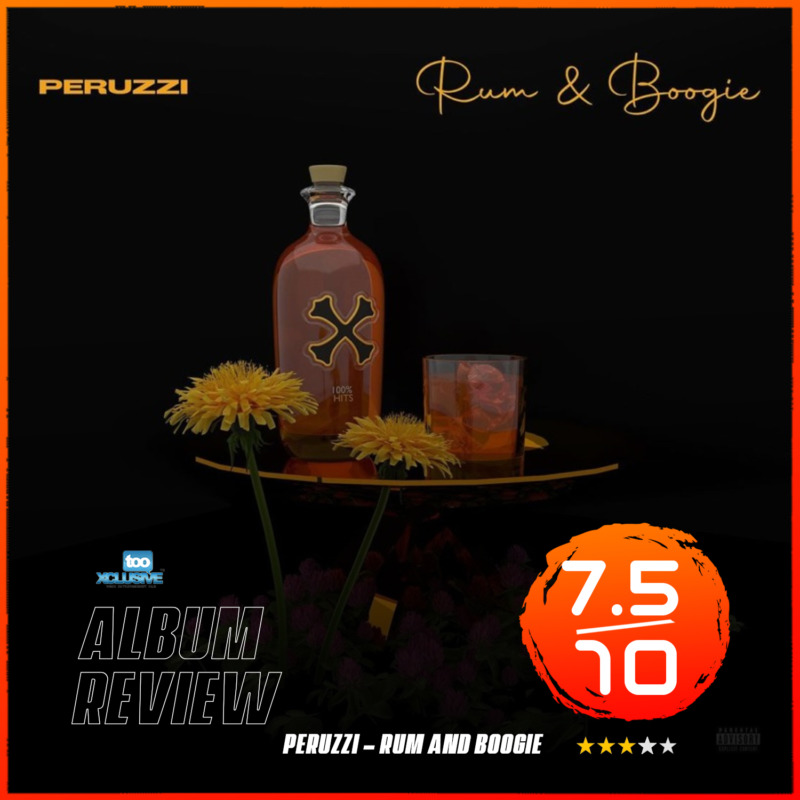 More than the hype, Peruzzi climb to the top is solidified on his sophomore album "Rum & Boogie" | The Review
REVIEW – A double-side album emboldened with star-studded features and high vibe chunes, Big features from Tiwa Savage to Phyno, Don Jazzy, Davido, and Fireboy DML, "Rum &Boogie" by Peruzzi is packed with hits.
One can't talk about Peruzzi's career without the mention of Davido and his 30BG (a team consisting of Davido friends and associates). Also, he is signed alongside Dremo amongst others to DMW (a record label owned by Davido).
Although Peruzzi is loved by many, Fans and critics alike, yet one can forget to give him his proper accolades, because mostly when he's up with Davido, one can easily see him as a protege instead of the artiste. That's why this album is a testament in its own right and it allows him to show his art to the world.
"Rum & Boogie" is in two parts, there is Rum (which consists of 10 tracks) and there is Boogie (which is the other concluding part of the 10), making it a 20 track album. STREAM HERE
"RUM & BOOGIE" ALBUM BY PERUZZI | THE REVIEW
Part A: Most songs on Part A of the album are traditionally Naija R&B /Dancehall/ Pop and Mostly aimed at romance and love.
The Break Down Of "Rum"
Track 1
Juba (Bow) is the first song off the album and quite an impressive way to kick off an album. "Juba (Bow)" is a praise to God sung in the Yoruba dialect and pidgin. He detailed his trials and how God had helped him. The song is produced by Show Beats.
Track 2
Teleport is produced by Speroach Beats, a slow ballad R&B record that cuts through percussions, guitars, and chords. a song about commitment and relationship goals.
Track 3
See Love is produced by Zaki Amujei, and it is a feel-good vibe song that is about love and living in the positive and staying away from bad energy.
Track 4
This happens to be one of the two features on this side of the album. The song is titled "Somebody Baby" featuring Davido, and produced by Fresh VDM. It's a song about fake love from a girl who is in love with someone else. This is probably going to be one of the hit songs of the album. maybe or maybe not, time will tell soon.
Track 5
Murda is produced by Mr. Eff and it's a dancehall/Pop record which is about a girl he loves regardless of her personality and looks and calls her his number one.
The start of this song samples a sound from 2 face classic song "4 Instance"
Track 6
Gunshot is produced by V Stix and it's a song that depicts his love for the body of a girl, her sexiness, and wanting to get down with her (probably mesmerized because of her bun shorts) The production is mostly pop elements and African rhythm.
Track 7
Girlie is a dancehall vibe type of sound produced by Speroachbeats. A Calypso sound mixed with African Dancehall in a laidback vibe. It's one good effort off the album.
Track 8
God Forbid is an R&B/Dancehall type of sound produced by Clemzy. Peruzzi argues the fact that he will defend his true love and try to keep away from other girls. This song samples 2-face African Queen song and Bob Marley. He sounded much like 2 face on this one. Horns, percussion, and chords are the elements of the production.
Track 9
Matrimony features Tiwa Savage and the track is an Afro Dance song produced by Lussh. It's a good effort as the two artists blended in their style and married it to the beat in perfect harmony. It's a love song and the chemistry by both artists makes it a good collaboration and good song.
Track 10
Lagbaja is the second song produced by V Stix. "Lagbaja" is the first single off the album. A jungle type of sound chopped up with Tom Tom's and Konga. Percussions and cords are the elements of the song production.
Part B: this side of the album is mostly populated by up-tempo dancing songs and it has much more features.
Break Down Of Boogie
Track 1
"Kalakuta" is an uptempo Dancehall song produced by Speroachbeats. The production is composed of elements of horns, bass drum, and percussion. this usually is not what you expect from Peruzzi, so it opens your mind to the possibilities of what Peruzzi can offer.
Track 2
"Baddest" is a fusion of High-Life and traditional indigenous Africa sound produced by Lussh and it features Don Jazzy and Phyno. A good collaboration and effort that paints culture and vibes.
Track 3
"Available" is a dance song produced by Lussh and features Wande Coal, it's a good collaboration that cuts fuji and Afro Pop in a style like never heard before. It's easily one of the biggest songs on the album.
Track 4
"Feeling Good" is produced by Speroachbeats and it's another good vibe song that details a worldwide run through LA, Russia, India, and a lot more countries and the experiences he had. The production has South African elements and sound.
Track 5
"Change Your Style" features Boylexxy and the beat is produced by P Prime. A Dance/Afro-Pop song that has a fire rhythm and guitar work. Unlike the Wande Coal feature, it doesn't have a lot of Ha moments.
Track 6
"Call" is produced by Rexxie and it sounds more like a Part A song than a Part B song. Peruzzi is known to do songs like this but it's a song one can enjoy along other tracks.
Track 7
"Baba God" is another spiritual song with a Dancehall beat but unlike Juba(Bow), this song features Patoranking and it's produced by Speroachbeats. The production is cut in percussions, Bass Drums and Bass Guitar. It's all about giving God praise for His love and providence.
Track 8
"Southy Love" is an Afro-Pop record produced by P Prime and features Fireboy DML. It's another collaboration and good vibe record with sing-along moments.
Track 9
"Color" features Setup and it's another production from Lussh, it's an Afro-Pop/Dance record but it doesn't meet up the vibes on the other records
Track 10
"Isolova" is produced by Lussh. It's an Afrobeat record with good moments of comic and sing-along. It's the last record on Boogie and the last song on the album.
"Rum & Boogie" is a new thing in Nigeria. The concept is one of a kind and Peruzzi did his thing, showing his versatility on two different levels on the same album. The features are hot, there is a good relationship between chemistry and style.
The production wasn't much in line with the direction of the album, there are too many misses with the sound of the album. 20 songs are too much and many tracks have no business being on the album (too many filler records).
Although he sounded like 2Baba in some songs, he did good holding down his own with the features. There are good songs on the album and the replay value is very fair too.
New Songs To Look For On The Album ( Editor Choice)
Here are the songs in no particular order
1. Teleport
2. See Love
3. Kalakuta
4. Available
5. Matrimony
6. Baddest
7. God Forbid
8. Juba
Peruzzi "Rum & Boogie" Album Review
Ratings
The album is good for 7.5.
---