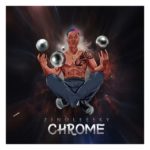 "CHROME" EP By Zinoleesky Is A Bewitching Account Of Love, Sex & Purpose, This Review will gives an account of the singer's Eccentric appearance.
(CHROME EP REVIEW) Zinoleesky is one of Nigeria's fastest growing singers who was discovered alongside former DMW signed artiste, Lil Frosh. Due to his musical prowess, he got signed to Naira Marley's Marialin Records in 2019.
The newly signed artiste made his debut as a Marlian Protege with the buzzing tune "Caro" produced by Rexxie. The song in no time was on the lips of music lovers and became a fan favorite. It also gave Zino more attraction and made him an act to watch out for in 2020.
After the successful release, he moved on to drop "Mapariwo," which tells the story about an affair that is meant to be made secret. At the time of the release of this record, Zino was already a household name and proved to be a big force to be reckoned with. This song gave other artistes a run for their money as it rocked charts and amassed millions of streams.
Moving forward, he dropped another single "Kilofeshe" produced by Niphkeys and On the 13th of December, 2020, he premiered his debut EP – "Chrome Eccentric". On this EP, which is a solo 6 track project, Zino shares his extraordinary journey in the Nigerian music industry and this article seeks to give a review of the project.
The body of work kicks off with "Angeli" which is a brief story about his life before and after fame. "This is the story of a little boy, Wanted to be good but I no get choice, All the things wey my mama taught me dem still dey with me on the greener pasture." he sings The beat is sampled from a popular 2Pac's classic, "Hit 'Em Up."
The second track produced by Rexxie "Won Wa Mi" which means "I am sought after." Within a short period, Zino has become a force to reckon with and is the most sought-after guy in the music industry. It's not just the music but even girls from all over the world are fighting to get his attention.
It's all fun and games till you get caught cheating. "Mapariwo" which means "Don't Shout" went viral almost immediately is a favorite on the project. Zinoleesky tells his supposed side chick not to make their secret affair public. This writer feels the mixing at the end of the track was not balanced giving the track kind of a flaw.
"Nitori E" is a track the ladies would definitely love. On "Nitori E" which means because of you, Zino makes many promises to a beautiful woman just "Mo le tori e lodo, Mo le tori e lokun, Mo le forimi fogo, Spend my last cash on you, Baby many many thing." He also sings "Nitori e, mo le gb'abon nitori e…" In English, that means, "I can take a bullet for you…"
"Kilofeshe" is the real deal out there right now. Produced by Niphkeys, mixed and mastered by TimmyJay. The track is a stunning blend of Afrobeat and the Amapiano which talks about not being moved by ordinary things of this world. Zino seems to be calmer on this track, unlike the other tracks on this project.
"Bullet" follows the same style as "Nitori E" but this time, Zino is ready to put a bullet to his head."If I do you wrong, I promise you, won't have to wait for too long, I won't let you down in my head, If I do you wrong I promise I won't wait for too long." He sings in pidgin English
Zinoleesky is no doubt a talented lad and if he keeps this up, he'll be among the biggest artistes in the coming decade. However, he needs to put more work when it comes to singing in his mother tongue. There has to be a balance in order to amass fans that aren't from the Yoruba. This way he would be able to reach out to everyone.
The EP is a fantastic project as it is centered around love, sex and belief in God, in beautifully written lyrics and it is hoped that he gets better in the coming years.
Rating 7.5/10
---