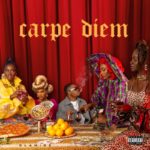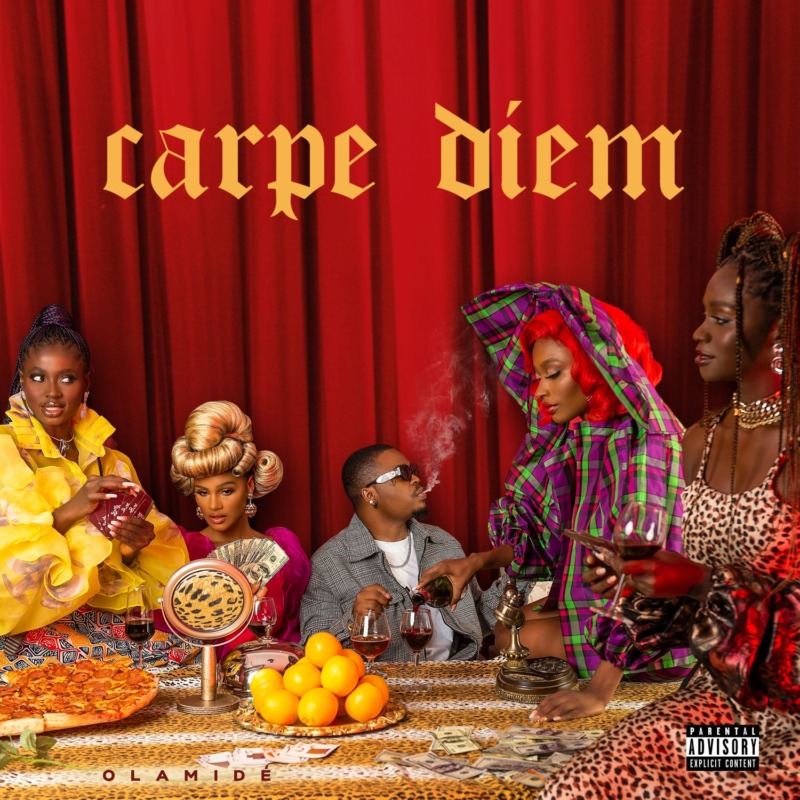 How Olamide Is Seizing The Times With Carpe Diem Album, The Review
Album – 'Carpe Diem', Artiste – Olamide
Runtime: 38 minutes, 12 songs
Carpe diem is a Latin aphorism, usually (though questionably) translated "seize the day" or as a Nigerian, you can say, "As E Dey Hot"
Come to think of it, who else can cash into the new wave and trend sweeping across Africa to the world ?
Who's the most versatile, sharp edge Naija artiste that can cause traffic online, in the club(no reference to 50 cent), radio charts and on the street at the same time.
Of course, you know who Olamide A.K.A Baddo Sneh (Rapper, YBNL Record Label Boss, Voice Of The Street).
This guy no dey carry last, although his album didn't really sit well with critics, and fans alike, yet, the transcending force on this new album shows that Olamide has solidified his reign as one of Naija top elite artiste.
Olamide's name will always be on the top 5 rappers list over the last decade and that's an easy win because this album is the receipt, if you have doubts.
The 31-year old rapper released his 11th studio Album on October 8th 2020 (CARPE DIEM ALBUM).
A 12 track album filled with star-studded features which spawned with hits back to back.
Carpe Diem is Olamide putting his foot down and running in the direction of the sound wave that is currently putting Nigeria/Africa on the map with the rest of the world.
Afro-Pop, World, Hiphop are the essential sounds that comprise the album With features from Omah Lay, Fireboy DML, Peruzzi, Bad Boy Timz, Bella Shmurda and production credits to Young Jonn, Pheelz, P. Prime, Idcabass and VStix. You can as well say Carpe Diem is another banger.
Olamide Carpe Diem Album Review 
The album started with a rap song titled "Another Level." A Hiphop/Dance-Hall song produced by P-Prime which is quite a track, as Olamide kept the punchlines and witty bars up. He talked about, not needing anyone's validation and his career growth since he came into the scene. There isn't anything spectacular about the beat, but the production is crisp, neat and a good momentum to get the party started.
And talking about parties, the next song is titled, "Green Light." This is a mid-tempo groovy Highlife/Galala/Afro track that sits well just right after the first song. Baddo sneh has to skip the rapping here but shine his light singing and serenading a mystery girl he wants to be close to like, "Onipanu and Palm groove" The song is one of many songs on the album that will captivate fans at first Listening and even after watching its music video (Watch Visuals HERE).
So far Olamide hasn't featured any artiste but on the next record, which is titled, "Infinity" he brought in new sensational singer, "Omah Lay" who has been topping charts since he released his EP earlier, this year. The Trip-hop/Afro/R&B song is one of the exceptional experience on the album. And one song that stood out(although there are quite some others). The chill and lay back feel of the sound on this track made it a great collaboration for the two artiste and fans will want to hear them do more songs together.
"Eru" is the lead the single of the album. Actually, this song is perfect as the first single off the album. The Afro-pop/world/Hiphop track is not only a song you can dance to but the production is up there as one of the dopest beats of the year. The track will turn-up the club any day of the week. It's already topping charts and one that sets the path for the album.
Olamide is a good storyteller and most of the records that make him top-notch is mostly embedded with stories of his struggle which is always close to the heart of his fans (the street). This time he featured Bella Shmurda on the "Triumphant" track which details on their struggle and victories. The realness in Olamide's voice is why the street love him and Bella Shmurda did a fine job making the hook very soulful and touching. The Galala/Dance-Hall/ /Hiphop fusion is a very creative twist with a blend that is peculiar. One of the best work on the album, and one for the street too…No doubt.
Olamide showed a lot of creative sides on this project, and there were no misses. The next track titled, "At Your Service" is a Hiphop/R & B record with a mellow vibe that just gets you there immediately you hear it. I think it is also strategically placed in the tracklist because the next few songs are upbeat and quite fast.
The second half of the album has more fast pace songs which are evident in his previous albums.
The Baddo Sneh persona is what happens when Young John is the producer and Olamide is the artiste.
So the next song as expected when the two collaborate, is a high tempo, fast track titled "Do Better." A Dance-Hall/Hiphop record which is reminiscent of his signature sound of gyrations and dance.
And so is, "Chimichanga", another dance record which fuses Dance-Hall and Highlife. A high tempo, mass appeal track that can easily be skipped if you not a fan of songs like this.
But not so bad since the next feature song is likely going to get you back into the album. Phyno happens to be the most featured artiste in the entire Olamide career, and they always make hits together so its only right that they get back for another one. "Shilalo" is the title of the song, and it's not a bad record. At least fans get to listen to the two artiste connect again. The Hiphop/World/Afro-Pop record is different from what you would expect of them. Their past collaborations have been different but what's an Olamide's album without Phyno on it. I guess, incomplete.
"Loading" is an Afro-Pop/world/Hiphop fusion record that features Bad Boy Timz on the hook. Olamide had to rap on this one, and he took a shot at the NDDC boss which is quite interesting since most people would agree with his sentiment.
The last two records feature two elite artistes.
Peruzzi is featured on the track 11 songs titled, "Unconditionally" An Afro-Pop/World/Hip-hop love song that details how he misses his girl when she is far away, and the bond they share.
The world and Afro-Pop sound on this album shows growth and innovation.
And who has a better skill for Afro-Pop/World/Hip-hop fusion record other than FireBoy DML. The "Plenty" Record is a rap song and a very good way to end an Album that's worth listening to. The record is a good collaborative effort although there are other songs that shine on the album. It gives the listener a reason to press play again.
It's no doubt that tenacity, passion, innovation are at core the driving force of Olamide's career and the growth is evident every time he drops a new project.
And also this is a commercial Album targeted to sale out. So, it won't be a surprise if the album garners good numbers in sales!
The album shows growth and innovation, but it has a lot of contenders and only time will tell its place in a year when a lot of artistes have made efforts to transcend their previous efforts. However, for now, it's worth listening to.
Naija most consistent artiste has done it Again!
Olamide – Carpe Diem Album 
Reviewed by Olalekan Okeremilekun
Twitter: @imjudah1
The post Olamide Enlist Afrobeat New Kings On "Carpe Diem" Album To Seize The Times | STREAM appeared first on tooXclusive.