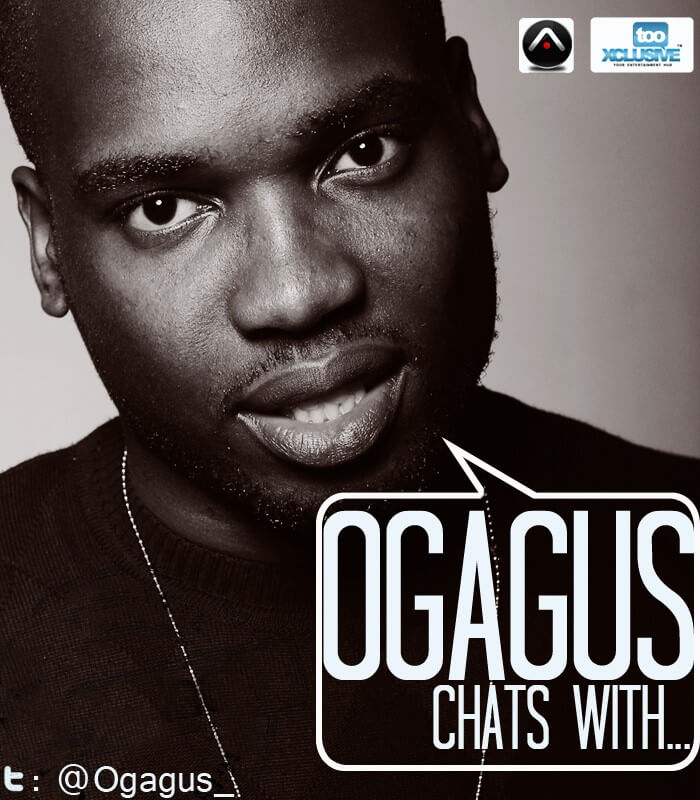 There is only one female in these shores that goes by the acronym 'D' and her name is Dencia. It is safe you live under a rock and do not watch television if you are not familiar with the 'supergirl'. The double D, not referring to breasts-size but Dencia and her somewhat famous puppy Diva are high priority subjects in the media hence the L.A based artiste has been thoroughly scrutinized for being too sexual, weakness in her craft, swagger jacking Lady Gaga and Nicki Minaj… Ogagus loves her nonetheless; always wanted to talk to the Twitter verified diva about her career and what not but distance and time stood in the way. Kudos to Skype for making it possible, the entire scoop below:
Ogagus: How's the beautiful Denica doing this morning?
Dencia: I'm doing great hon, just a little aggravated but I'll be fine. What's up? How you doing?

Ogagus: It is you that is up…I'm fine. Straight to business, when did you realize that music is what you want to do?
Dencia: Depuis; like forever but I finally jumped into I full time 2011, dropped everything else and it's been just music
Ogagus: Wow! What prompted that decision? Dropping everything else for music?
Dencia: Music had always been my passion, you know growing up in Africa, and my dream was to sing, move to L.A etc. I'd made the move, met everyone, seen everything I wanted to see partied with everyone you can think of, so my next move was to choose my love, my passion and a career and it was no other but music.

Ogagus: That's inspiring, the way you went for it. So are you signed to any label because your hustle is thick?
Dencia: No, I am not signed at the moment but hopefully soon, I am working towards a compilation to present to my dream label I need that extra finance you know
Ogagus: Let's leave the music for now; tell me something not too many people know about you?
Dencia: Let me see, if I tell u then everyone will know now right, let me see. I'm really opposite to what they see, like I'm the type of girl who'll stay at home chilling w my Pa and dancers and just cracking jokes while cooking and just being super silly, I like being silly, also I am very investigative. I spend a lot of time investigating, I'm the type of girl to tell you who your first girlfriend in nursery school was, if you are a guy I wanna date.
Ogagus: Tell me about your pet? I want the scoop.
Dencia: Diva is a little girlie girl, she's 3years and got her when she was 3weeks old a few summers ago, I needed a loyal friend, I needed someone I could count on and she's all that. She's an amazing crazy dog, I say crazy cause she is. She doesn't like other dogs, she thinks she's human, she goes wild at the sight of other dogs, and she's very loved, always with me, travels everywhere with me, sleeps with me… I always wakeup and she's laying right on my head or face. I love her.

Ogagus: Why isn't she following me on Twitter?
Dencia: Who? Diva? or Dencia or the double D's?
Ogagus: Diva!
Dencia: Oh! Tweet her she'll follow back.
Ogagus: Diva the tweeting dog… When did you drop your first single?
Dencia: August 2011…

Ogagus: How has the music journey been since then?
Dencia: Not easy, but hanging in there, I am trying my best, it's a lot of work that needs to be put in and I am putting in as much as I can to make the future easier.
Ogagus: What are the major challenges you're facing in the music business?
Dencia: Promoting, being available for shows, most shows I'm booked for I can't make it because of location, I spend a lot of time abroad so it makes it hard for promoters back home to want to pay the flights etc. but I'm looking at being a little closer which will be cheaper for everyone, I'll try and spend more time in Africa and Europe and go home to L.A for vacation or so.
Ogagus: A lot of males are crazy about you, I am crazy about you; do you consider yourself a sex symbol?
Dencia: Really? I didn't know that oh…where them boys at? Honestly I don't know, people do say I'm sexy but I don't carry it on my head I don't, so I don't know and if I was a sex symbol I need to be having more sex…but yea she doesn't know about that. Do you think I am?
Ogagus: I'm the one asking questions here, I'll answer that off the record.
Dencia: If you can ask then, you should be able to answer too.

Ogagus: Haha! Any future projects we should expect from D?
Dencia: Yessssss! In a few days I'm releasing my single featuring Sarkodie, it id dope, I love it and I love Sarkodie, I have a zouk coming out and a single with Jessy Matador all this before the year runs out.
Ogagus: Wow! I can't wait to hear them…
Dencia: I can't wait to deliver it.

Ogagus: Any regrets you made in your career so far?
Dencia: Yes, but all were lessons learned you know, I've grown, it's been a year only and I have many more years to turn the mistakes into lessons and making better decisions etc.
Ogagus: What's the highlight of your career so far?
Dencia: I'll say being on MTV USA website as the first African artist and also having my video played on Latin MTV, TRACE…You know I don't think MTV Base has ever played my video or even featured me on their site, I was stoked and it was like they were saying, good job, we are watching.

Ogagus: Hard work pays and it's a juicy clip, so what inspired the song 'Super girl'?
Dencia: I love pop music, the beats were so dope, I'd been dealing with a lot of media controversy etc. I love singing about love, the lyrics were about luv but the title was really about me being a super girl, being a strong woman or girl, being that person who's so super she can bounce back from anything; I tried not to directly respond to certain things.

Ogagus: Do you feel is a song preaching Female Empowerment & Feminism?
Dencia: Yes I do think it does and that's another thing I loved about it.
Ogagus: Who are musical influences?
Dencia: Michael Jackson, he's an amazing singer and performer, Diana Ross, I love her she's gorgeous and amazing, I love Rihanna's work ethics, she works hard and plays hard, I love Nicki's hustle, she's slaying the game, I love Beyonce, she's super grounded I love her work ethics, love her as an all-around artiste. These ladies do it for me, pick out the best in them and stick to it and you are good to go.


Ogagus: What is the secret behind your success thus far?
Dencia: Hard work, I don't sleep, I work round the clock, I am always doing something, I hire people but I turn around and do all the work,I believe in doing it yourself if you want it to work the way you want. I was hospitalized recently and I had my iPad and phones 24/7 and my sisters were like 'what the f**k is wrong with you?' I said, 'the desire to take over the world'.
Ogagus: Yeah right? Are there any acts in Nigeria you'll love to work with?
Dencia: Sure, I'll love to work with Flavour, 2face, P-Square, Waje and a couple of others.
Ogagus: You love Waje that's settled, but is she your favourite female act in Nigeria? If not, who's your favour female Nigerian artiste?
Denica: I'll be honest with you I don't keep up with anyone but I like songs here and there when I hear them. I think vocally Waje is amazing, I was backstage in 2011 at an award show in New York and I heard someone sing I was like amaze balls…Omawumi slays and Tiwa & Tiwa is a great performer watched her once.
Ogagus: How do you react to critics who preach that you are copying Lady Gaga and Nicki Minaj's antics?
Dencia: Ray Bans to the BS!
Ogagus: One last question, I read somewhere that you were trying to claim Nigeria as your country of origin and I was like all these media houses are at it again.  Can you please clear the air as regard that issue?
Dencia: My Real mama is Cameroonian, I was raised by my mama's parents and have their names and my Real papa is Nigerian. It's funny how so many people claim to know so much about me and they don't even know my middle name, I can't blame them because it is something that I didn't know myself until a few years ago. It is amazing how people finna question me like; don't they say only your mama knows who your real papa is?
Ogagus: This is a very sensitive issue I guess…
Dencia: Yeah! I read stuff like; 'Oh I went to school with her', 'Oh she's denying Cameroon'. Where and when? Never denied here I was born and raised there but even if I did which I'll never do, isn't it my life? My choice? I have a lot of famous African friends who claim they're Spanish, French and so on yet they have more accent that my average 'Nkechi' in the village but ain't no one saying stuff but Dencia who's claiming her s*** is about to be crucified. This is a really sensitive issue for me, it's something I have 2 deal with personally, go ask someone who found out the whole world was lying to them about who they really are for over  16 years. It's a lot to deal with oh and you can't really talk about it and when you do people want to say something. You know what let me stop because she could go on and on.
Ogagus: That's settled… Dencia is Nigerian, Beri Beri! Thanks for your time dear.
Dencia: Anytime!
TRIVIA
Favourite Food? Fried plantains and anything sea food.
Lady Gaga or Adele? Gaga she has more fun music, Adele be giving that psycho stalker girl music and no I don't want no psychic thoughts.
Last book you read? My bible this am but talking about regular books '50 Shades of Grey'.
Favourite album at the moment? Just enjoying singles, haven't checked out any album all year… bad!
Favourite City? Los Angeles
The post INTERVIEW: Ogagus Chats With "Dencia" – D is for Dencia appeared first on tooXclusive.